Welcome!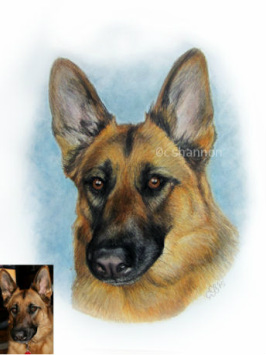 Canadian professional artist, Crystal Shannon, provides an ONLINE custom art service for hand drawn dogs, cats, horses, and people with their pets. Safely triple packed and shipped
WORLDWIDE.
Sometimes photographs just do not do justice to the personality and charm of your pet. Bad lighting, red eye glare, a drooped ear, an undesirable or a distracting background often spoils photos. With a custom hand drawn pet portrait you can have all of these issues adjusted or removed to suit your preference, while bringing the character of your pet to life in a timeless tribute.
Colour rich, professional artist pencils and high quality heavy bristol paper are used in creating these timeless drawings with meticulous attention to detail using your photos for accuracy.
How do I get a drawing done of my cat, dog or horse?
It's easy!
Visit the Prices and Ordering page, select the portrait type you'd like then add to cart, once transaction is complete, you simply email your photo(s).
*Artist can be emailed directly anytime to answer any questions or concerns during the process of your order.
Then when you're drawing is nearing completion, a photo of your drawing is emailed to you to approve for shipping. If it needs adjusting ~ it will happily be adjusted to meet your
complete satisfaction
. It doesn't ship until you love it! ~ Read about how its
shipped here.
And check out past customer testimonials here.
Visit the What's New & Current Promotions page to check for any latest portrait sales
Not just a pet artist! Do you have a photo you may like drawn into a keepsake? Please email for a free quote with your ideas and photos to crystal@cshannon.ca
---
---
---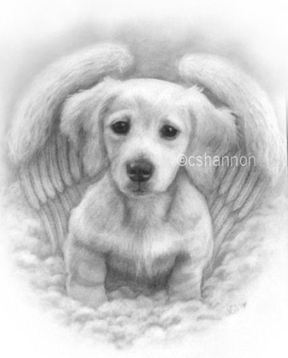 ---
Need a quick, printable gift? How about a gift certificate for a pet portrait by C.Shannon Click here

Please follow me on Facebook to see all my very latest portraits
Thank you for visiting, please bookmark this site and come back soon